With Thanksgiving dinner being a veritable smorgasbord, planning wine pairings for all those flavors might seem daunting. But it doesn't have to be.
On the food front, turkey and ham typically play the lead roles, strongly supported by the usual starchy suspects. But often you'll see non-traditional dishes from a family's country of origin. Because, you know, America is a melting pot, and people like to celebrate their heritage, old and new. So how to tackle the wine pairings?
The idea behind wine pairings is to simultaneously the enhance the flavor of both food and wine. There's a whole science behind it (I love Wine Folly's geeky resources like these charts). But if you'd rather not dive into wine dorkery, here's a simple list of dependable Thanksgiving go-to wines to satisfy discerning palates.
Whether you've got a bird, tofurkey, lasagna, scallion pancakes, or sushi on the menu, here are 5 fool-proof wine pairings* to help you nail that wine list… Giving you extra time to kick back with your own glass and binge watch Netflix, or to take a stab at this killer onion confit.
Either way it's a win-win.
1. Riesling
Known for its super high acidity, Riesling pairs exceptionally well with most anything. It's often referred to as an ideal food wine, the apple of a sommelier's eye. Producers can choose from a range of styles, from bone-dry to sticky sweet.
For your savory Thanksgiving dishes, I recommend the dry version; reserve the Late Harvest for the pumpkin pie. If you're going domestic, try a bottle from Washington's Columbia Valley or New York's Finger Lakes region.  Many options can be found in the $10-15 range.
Riesling pairs great with ham, white meat turkey, sweet potatoes, spicy foods and anything with a soy sauce component.
2. Sparkling

Champagne and Crémant (the French term for a sparkling wine produced in France outside of the Champagne region), Prosecco and Lambrusco, Cava… Whether you opt for French, Italian, Spanish, or American, sparkling wine will add cheer to your table.
Like Rieslings, sparkling wines can present anywhere on the dry-to-sweet scale. For the purpose of wine pairing with savory foods, stick to a drier style. (Look for "brut" on the label). Obviously, with Champagne comes a hefty tag, but most other sparklers offer excellent value around the $15 price point.
Sparkling wines love fried foods and anything super salty like cured meats and olives. Petillant Naturel is a great alternative for something out of the ordinary.
3. Pinot Noir
High quality Pinot Noirs from the famed Burgundy appellations in France tend to be priced upwards of $30. Yet there are plenty of fantastic Pinot Noirs on this side of the Atlantic that can be found for much less. Oregon's Willamette Valley and California's Russian River Valley and Santa Rita Hills produce budget-friendly wines at around $15.
It's hard to go wrong with Pinot Noir with its light-to-medium body and versatile aromatic profile… Simple and fruity, or earthy and slightly rustic, often with supple tannins from the thin-skinned grape.
Pinot Noir will jive nicely with your turkey, mushroom gravy, stuffing, and green bean casserole. It's also a great go-to wine for your cheese platters.
4. Chardonnay 
With so many styles of chardonnays to choose from, for Thanksgiving I'd recommend one with at least some oak. (The back label will often say whether the wine was fermented or aged in oak, and for how long.)
My go-to region for this style is the Maconnais, the southern tip of Burgundy known for its value chardonnays often under $15. However, California also produces Maconnais-like styles, namely in Napa and Paso Robles.
Bright and pleasant with tropical fruit aromas and a touch of oak makes this style of Chardonnay compatible with butter-laden dishes: mashed potatoes, certain fish, and even bread… but also pork loin and turkey breast… and that onion confit.
5. Barbera
Not your normal Thanksgiving grape, but this little Italian varietal is packs a pleasant punch with its mouth-watering acidity and bright cherry profile. It's a great versatile food wine because of its high acidity and low tannin.
Barbera is most commonly found in Asti, an Italian town near the Alps known for its sparkling wines (Moscato d'Asti, Asti Spumante). But you'll also find them grown in California produced albeit at a slightly higher premium than its Italian counterpart, typically around $20.
Because wines pair well with their native cuisines, lasagnas, pastas, and braised meats will find a happy partner in Barbera.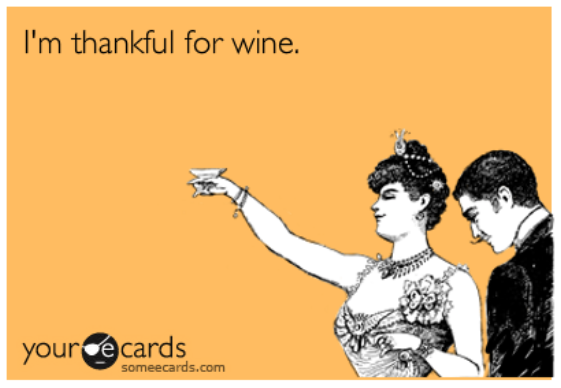 Clearly, the above list is somewhat subjective and by no means exhaustive. In fact, an earth-shattering wine pairing just might be waiting to be discovered by you… But it may require you to play sommelier and taste for yourself. Tough job, right?
*I rarely recommend specific producers, mostly because finding a particular bottle can sometimes feel like a needle in a haystack. Rather, I recommend varietals, blends, and regions because it empowers you, the buyer, to trust your instincts and build confidence in your wine knowledge.
The more often you buy and taste, the more confident you become as you train your palate and discover your wine preferences. It's almost always better to hit up a reputable shop (as opposed to a discount or mega-store) where you have a better chance of coming across small producers who create quality, artisanal wines.
Regardless of which wines grace your table this Thanksgiving, I hope you have a blast picking them out. Cheers to you and yours!
Which wines are you looking forward to try this holiday season? Drop a comment below!