Breaking up with summer is hard to do.
But when the signs of fall are undeniable — a slight chill in the morning air, pumpkin everything everywhere, the gloom of daylight savings — it's time to let go.
My consolation? All the soups.
A rainbow of fall vegetables simmered down in a hearty broth.  Chowders thick and chunky, laced with cream and bacon fat. And the season staple of a chicken soup, on special occasions whisked into a gravy-esque roux and anointed with heavenly dumplings that carry just a hint of Dijon mustard.  Yes yes yes!!!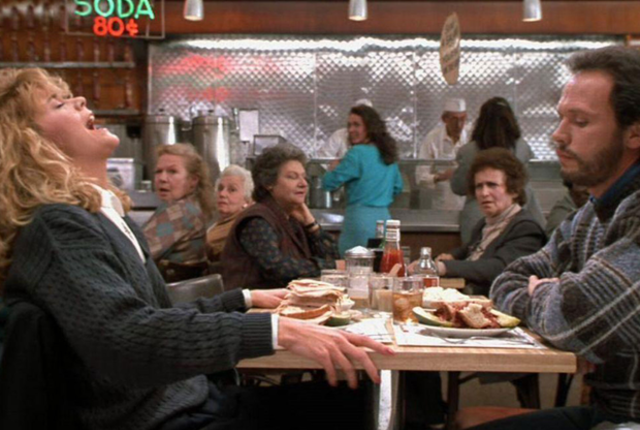 My favorite go-to soup though is butternut squash.  The Whole Foods near me regularly carries "Triple Squash" in their soup section, but in recent years, the texture has become thinner, almost watered down. Sad. So I started making my own.
Traditionally, the three squashes at play are butternut, pumpkin, and acorn. But I'm a lazy cook and use only two squashes + sweet potato.
For this recipe, I use butternut (because they're sold in cubes at my local Trader Joe's and Costco), pumpkin (because canned food), and sweet potatoes (because they are easy to peel and cube). Not technically three squashes but WHATEVER.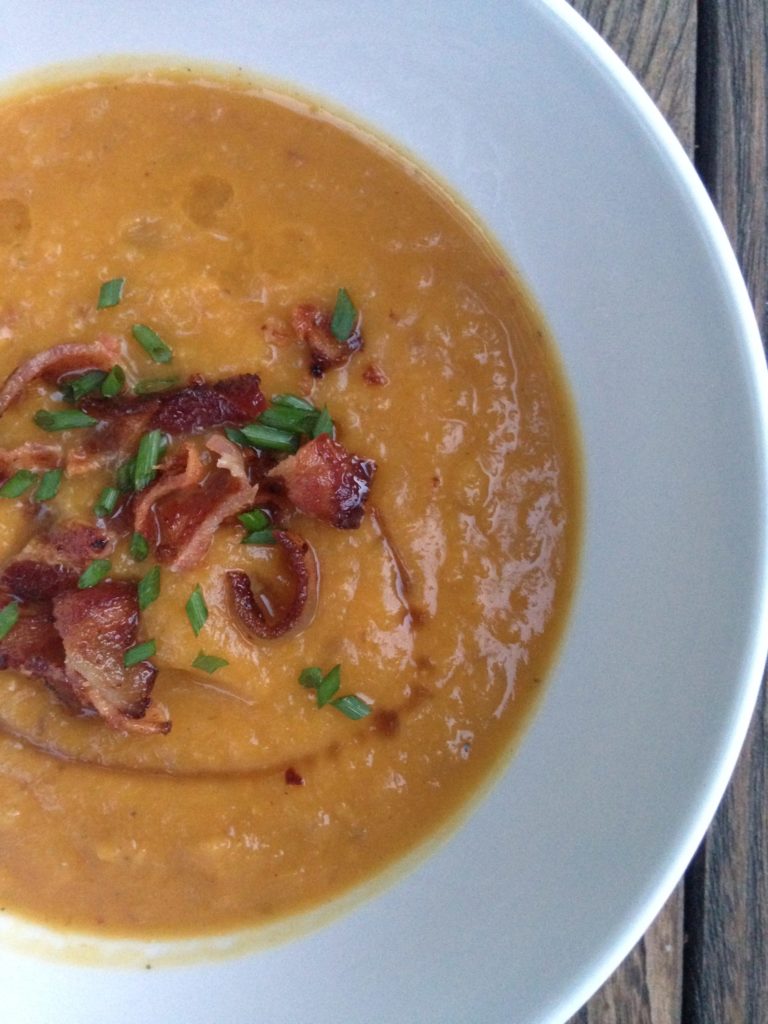 I suppose you could roast the butternut and acorn squash for 45-60 minutes, wait for it to cool, then scoop out the flesh and continue on your recipe, but if you'd rather not, the recipe below is a fine substitute. You'll have your vitamin A in abundance either way.

Butternut Squash Soup
Ingredients
4 oz bacon
2 cups cubed butternut squash
2 cups cubed sweet potatoes (about 1" pieces)
1 can pumpkin puree
4 cups chicken or vegetable broth
1 onion, chopped
1 tbsp olive oil
1 bay leaf
1 tsp ground cumin
1 tsp ground cinnamon
½ tsp ground nutmeg
salt and pepper, to taste
chopped chives, to garnish
*OPTIONAL: ½ cup of cream or coconut milk
*OPTIONAL: 2 tbsp maple syrup
Instructions
In non-stick pan, cook the bacon, turning until crisp. Set aside cooked bacon on paper-towel lined plate, and SAVE THE BACON FAT.
Warm the olive oil in a heavy pot over medium heat, and add some of that bacon fat along with the onions, stirring often until translucent. Add bay leaf and stir. Add butternut squash, sweet potatoes, and another pinch of salt, coating the squash with the onions and oil/fat. Continue to cook until the vegetables begin to caramelize, about 5-10 minutes.
Pour chicken stock into the pot, immersing the vegetables in the broth. Add cumin, cinnamon, and nutmeg, giving the pot another stir. Turn the heat to high. After it comes to a boil, bring the heat down to low, allowing the vegetables to simmer for 25-30 minutes.
*OPTIONAL STEP: If you'd like to sweeten and/or lighten the flavor, now is the time to add the maple syrup and/or cream.
Add pumpkin puree, a pinch of salt and pepper, and give the pot another stir, allowing everything to simmer for an additional 5-10 minutes.
Take the pot off the stove and REMOVE the bay leaf. Using a Vitamix or a blender, puree your soup until desired consistency, Pour into bowls and garnish with bacon and chives (and extra maple syrup and another drizzle of bacon fat, if you are so inclined).
Notes
Obvs, this recipe can magically become vegan and/or dairy-free by eliminating the bacon and cream.

Whole30 compliant as long as your bacon is compliant and if you eliminate maple syrup.