What the heck are canapés
In its basic form, canapés are bite-sized appetizers. With a base comprised of bread or pastry, you can top it with anything savory. At high-end parties, you might see it served with cavi-AH. I wouldn't know, though, because I don't go to many fancy parties.
The only party this sweet potato canapé was served at, was the one in my living room, by myself, watching a rerun from the first season of Grey's Anatomy.
With my stomach in complete anarchy as of late, I'm opting for gluten-free (GF) alternatives and this recipe was an accidental success.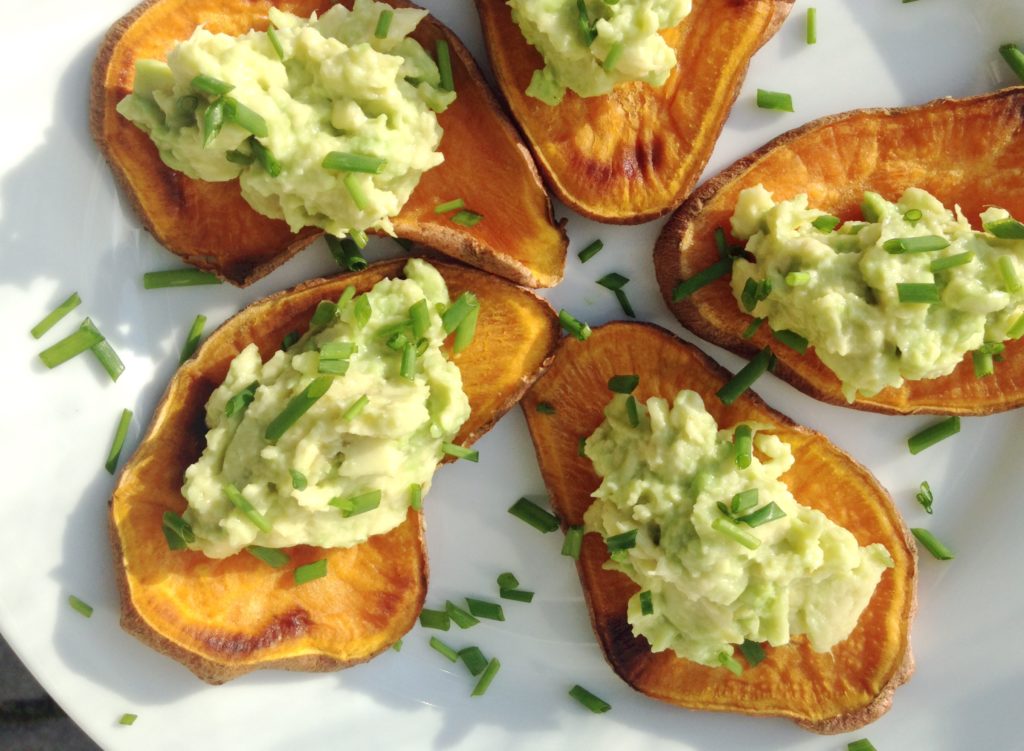 Sweet Potato: the BFF for the GF
Sweet potatoes have great versatility as a source of starch – naked and baked, grilled, roasted, spiral-ized, or soup-ified. Savory or sweet (hello, pie?!). Plus, they've got your back with Vitamins A, B6, C, manganese, copper, potassium, and host of other goodness that Google can tell you all about.
In this case, it's subbed for bread or pastry — and that's fine by me.  Sliced thinly, the sweet potato lends a chewy, satisfying texture. It's strong enough to hold heavier toppings like a slice of roast beef and a morsel of onion confit, or spoonful of seafood salad.
Avocado: the Smooth Superfood
For this inaugural canapé, I used plain avocado – one of my favorite superfoods ever. Loaded with fiber and with more potassium than a banana, the humble avocado carries: Vitamins K, C, B5, B6, E, in addition to folate and a bunch of antioxidants. They're also one of the cleanest fruits around, thanks to its thick skin that protects the fruit from absorbing pesticides.
What's not to love?
Perhaps the fact that avocados go from unripe to overripe in a span of hours, it seems? The best defense is a good offense, they say; so when it comes to avocados, I place them in the fridge juuuuuust as they are getting ripe enough to slice. Throwing them in the fridge will prolong the ripening process by about a day.
Anyway —  no stomach ache for me after consuming these babies… which is definitely worthy of a party 🙂
Sweet Potato Canapés
Ingredients
3-4 large sweet potatoes
2 ripe avocados
sea salt
chopped chives, for garnish
Instructions
Pre-heat oven to 375F. Line two baking sheets with aluminum foil and coat with non-stick spray (I use Coconut Oil from Trader Joe's).
Slice potatoes into rounds, about ¼" thick. Lay out in a single layer on each sheet. Spray lightly with coconut oil and sprinkle with pinch of sea salt.
Bake both batches for 30min, flipping the potato rounds about halfway through. If you are using two separate racks, switch baking sheets halfway through as well.
Transfer potatoes to plate and allow to cool.
Mash avocados and spoon a dollop onto each round. Top with sea salt and chives.
Notes
Sweet potato rounds can be made several days in advance. Store in refrigerator in airtight container for up to 5 days.